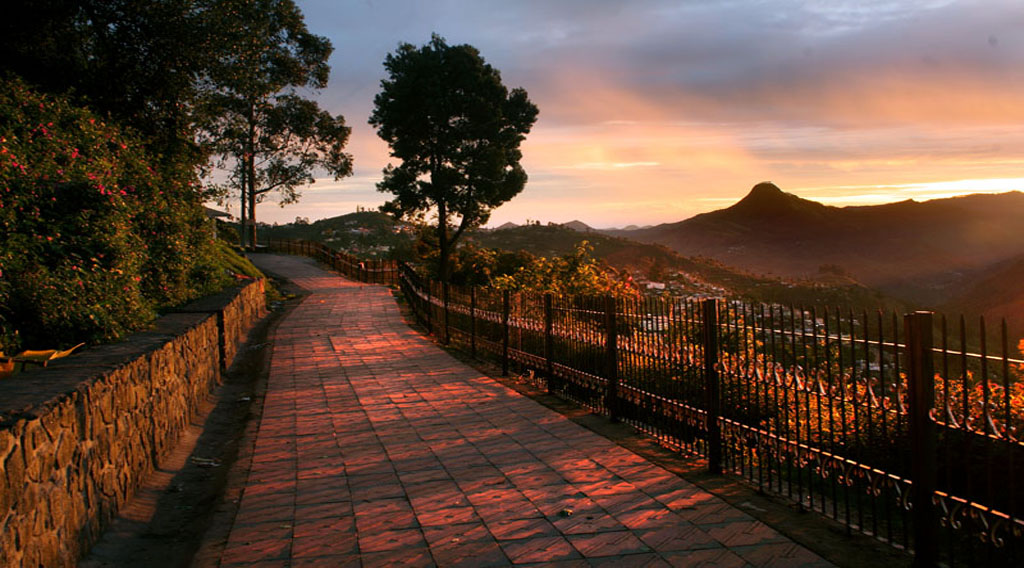 Coakers Walk, Kodaikanal Overview
Coakers Walk is a beautiful man-made one-kilometre-long walking plaza built on the mountains in the mesmerizing city of Kodaikanal, which is situated in the south Indian state of Tamil Nadu. The lovely path of Coakers Walk that curves by the edge of the gorgeous mountain have been constructed mainly for visitors to get a glimpse of Paradise on Earth. It is a preferred location for morning and evening walks, and admirers of nature visit the location often to capture the wonderful lush green valleys and the hills of Kodaikanal. One can also choose to ride a bicycle to explore the scenic location. The sight is breathtakingly beautiful, and it almost makes one feel like they are walking in the clouds.
The Coakers Walk was constructed in 1872, by Lieutenant Coaker. It is about half a kilometre away from the Kodaikanal Lake and is constructed on the steep slope of the mountains. The walk begins near Van Allen Hospital and joins the main road above St. Peter's Church. The pathway is fenced by the edge of the mountain for the safety of the visitors.

At the south-east of the Coakers Walk lies the valley of River Pambar and to the South lie the Dolphin's nose and the City of Madurai. The region has pleasant to cold weather most of the times and is frequented by people of all age groups. It's a favourite location for activities like sightseeing, photography and cycling. A walk here is a unique experience in itself and should be on your list of attractions to visit in Kodaikanal.
Visitor Information
Famous For: Nature Lovers
Entrance Fee: 10 rupees per head and 20 Rupees fee for telescope house
Visiting Time: 7 am to 7 pm
Visit Duration: 1-2 hours
A short walk amidst the exquisite mountains and valleys of Kodaikanal, Coakers' Walk is a simple escape into the quaint environment of the beautiful and refreshing surroundings of the city. It is on a vertical slope of the mountain and is merely a kilometer to help you relax without making the tourists exhausted.
Traveler Tips
You can bring drinks along to keep yourself hydrated during the walk.
Wear your sports shoes and be cautious of the steep road.
Lockers are also available to store your belongings.
Food services also catered and bring your camera along to indulge in nature photography.
Things to Do
You can also hire bicycles catered at 30 rupees per hour to ride along this charming landscape.
Telescope house is also a must to visit while exploring the surroundings here.
Shop around at the Kurinji Mini Super Market to buy souvenirs and mementos.
Horse riding at the Kodai Lake is also an enthralling option to tree.
Availability of Guides
Guides are not needed to explore this place and in case you get lost you can ask people nearby for directions.
Best Time to Visit
Winter is the idyllic time to visit Coakers' Walk as summers will not be appropriate to explore the surroundings. So, try to plan your visit here during December to February which is the chilly period to amaze yourself with a great time in nature.
How to Reach
Kodaikanal Railway Station being just half a km from the walk is the closest one to arrive at the place. Moreover, Madurai and Coimbatore are the closest airports and road network is also quite reachable through public transports or hiring cars to reach this place.
Interesting Facts and Trivia about Coakers' Walk
Created in 1872, Coakers' Walk was constructed by Lieutenant Coaker. The weather is mostly cloudy near this place so visiting it on a moderate and clear time of the year is what can turn your visit here into a rejuvenating one!
The hills of the Pamber River can be spotted in the south-east direction where Madurai is situated.
It begins at Van Allen Hospital and also includes St. Peter's Church and you can witness the charming ambience and a mesmerizing mood that can allure anyone with its beauty.
'Brachem Spectre' is another phenomenon which this place is famous for and occurs to those lucky ones who are able to witness their shadow in the clouds with the halo of a rainbow especially when sun is at your back side and clouds along with mist on the front.
Nearby Attractions
Kodai Lake
Peters Church
Kurinji Mini Super Market
Bryant Park
Kodaikanal Yoga Center
Dolphin Nose
Nearby Restaurants
Astoria Veg
Domino's Pizza
Muncheez
Sapphire One Way Restaurant
Pastry Corner
Cloud Street
NilasTreats
Hilltop Inn
Cafe Cariappa
Tava
Baskin Robbins
Rice & Spice
Royal Tibet
Abys Café
Freshy's
Café Coffee Day
Hence, Coakers' Walk is an amazing place to indulge oneself in sightseeing the enchanting mountains and vistas of Kodaikanal and letting yourself soak in the healing beautiful aura of this nature's walk. Having lots of things to try here from boating to visit telescope house and shopping at the nearest bazaar you can actually spend a whole day pondering over the exquisite landscape of Coaker's Walk. And if you are lucky enough, you can also be a part of the Brachem Spectre and experience the magic and allure of the charming nature here. So make sure you visit this place during your journey at Kodaikanal which is filled with numerous treats to awe yourself with the lovely environment of this tourist attraction!